Yes fine readers, it is that time of year again. The shops are filled with overpriced boxes of choccies and cards featuring disgustingly cute little teddy bears thrusting love hearts into our faces. No I am not bitter, I am not single, I just think all these things are complete rubbish and that Valentines Day is a truly materialistic 'holiday'.

You should show your partner how much you love them every single day, and not by buying them stuffed animals and other equally shoddy goods, but with your words and actions and most importantly, home baked treats.


Now as you may know I cannot resist a chance to theme something in any way I can, and if it involves glitter and sprinkles all the better, so Valentines Day is one such reason I have grabbed hold of and gone with.
I decided to make these cookies after one of my in bed recipe book browsing sessions - everyone does that right? I was looking through this book, one of the prettiest I own. It has a felted textured cover and gilt edges and comes wrapped in lavender tissue paper in a beautiful pale pistachio green box. I don't even care that it is entirely in French, the photographs are so beautiful you don't need words. Of course it is a recipe book, so you kind of do need words, but I remember enough from school to get by.

Langues du chat or 'cat's tongue' cookies are delicious crisp little almondy bites which you usually serve with coffee or ice cream, or with nothing at all if your name is Nancy. You use a very different technique to make these than you would a normal cookie but they are still very easy, the hardest part is piping them onto the baking sheet in straight lines so they bake evenly.
You would not usually decorate langues du chat, although Ladurée always enrobe one end in a lovely pastel colour. I thought this was an excuse to get my sprinkle collection out so used metallic sugar crystals, pearlised sugar dragees and tiny pink sugar hearts - you can of course use less twee decorations or none at all, it is completely up to you. Given as a gift with some good coffee or ice cream I think they would make any food fan feel more loved and appreciated.
I've given two options for the box base - one to keep your love guessing and the other with a space for you to write your name, as they will obviously want to track down their baking admirer to thank you and probably propose.

Just click the small images below and download the templates, then print them onto any colour card you desire. Cut them out, fold and stick them in place and then load them up with cookies - love in a box!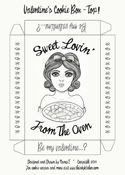 Langues Du Chat or 'Cat's Tongue' Cookies


Makes 20-30 (depending how big you pipe them)



Ingredients


75g butter, softened
115g icing sugar
2 large egg whites
2 tbsp caster sugar
1/4 tsp vanilla extract
1/4 tsp almond extract
75g plain flour, sifted


a piping bag with a 8-10mm round nozzle

100g white chocolate, roughly chopped
assorted sprinkles, dragees, sugar decorations (optional)



Method


Preheat the oven to 200 C / 400 F and line a baking sheet with greaseproof paper.

Cream the butter and icing sugar together for 2-3 minutes until it's pale and fluffy then set aside for a moment while you whisk the egg whites to soft peak stage, now add the caster sugar one tablespoon at a time mixing well after each addition. When you have a glossy meringue like mixture that will hold peaks pour it into the bowl with the butter mix and extracts and fold together gently for a minute or so until most of the lumps are gone. Now add the plain flour in three parts mixing after each. Keep folding together until you have a lump free batter - it will feel a little elastic.

Spoon the batter into the piping bag and pipe onto the baking sheet in 6-7cm lines - try and keep them as straight as possible so they cook up neatly and leave around 5cm space between each one.

Bake in batches for 5-7 minutes turning the baking sheet halfway through so they cook evenly. They should have lightly browned edges but still be pale golden in the middle. Remove to a rack to cool down.

Melt the chopped white chocolate in the microwave or a bain marie and then dip one end of each cookie into it and place back onto the cooling rack. If you are using decorations you will need to use them quickly after dipping each one - if you are too slow the chocolate will set before you get to put them on and won't stick.

Let dry and then place into the box and give to your true love!


If you aren't eating them within the first day you'll need to store them in an air tight container so they don't soften - they'll keep for up to three days.